07/27/08
While penetrating/migrating seeds should be a big fear for all dog owners, as illustrated in our last case, sometimes the very covers we spend hours and days in every fall can be just as harmful. My officemate had a lab that came in last fall with a small wound on his foot after pheasant hunting corn stubble all weekend. The wound appeared to be a small injury on the bottom surface of the paw, which was cleaned and the dog was placed on antibiotics. The dog appeared to be getting better with the wound on the bottom healing; however, about a week later the owners noticed a similar wound on the top of the paw.

With this new development a migrating foreign body was suspected and the dog was anesthetized for surgery. In this picture you can see how small the wound appeared at the time of surgery: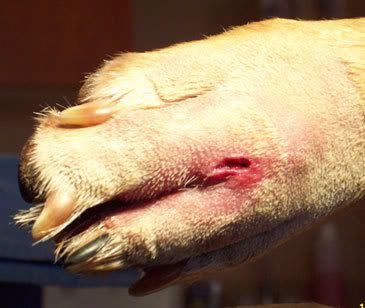 After the wound was explored it was quickly evident the extent of the wound on how deep the problem was: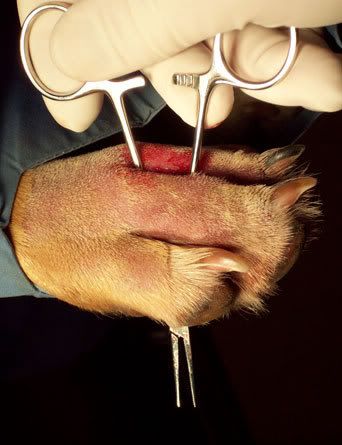 Once the area was explored a piece of corn stalk was extracted. In the picture you can see the length of the piece. This dog had hunted for an entire day after the injury and outside of a small wound on the surface showed very little discomfort.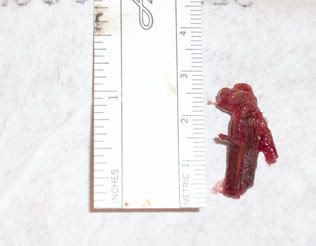 Dogs will never cease to amaze me with the level of pain and discomfort they are able to endure while doing what they love. Even with adequate veterinary care, they are sometimes able to mask the seriousness of the problem. It is for this reason that I can't stress enough the importance of understanding your healthy dog to the fullest so that when things are even slightly off kilter you may be able to pick up on them and address the problem before it becomes a serious issue.

Take the time to examine your dog after every session in the field and deal with problems as they occur to help ensure the best outcome for your hunting partner.

Leave a Reply